Featured Media
Image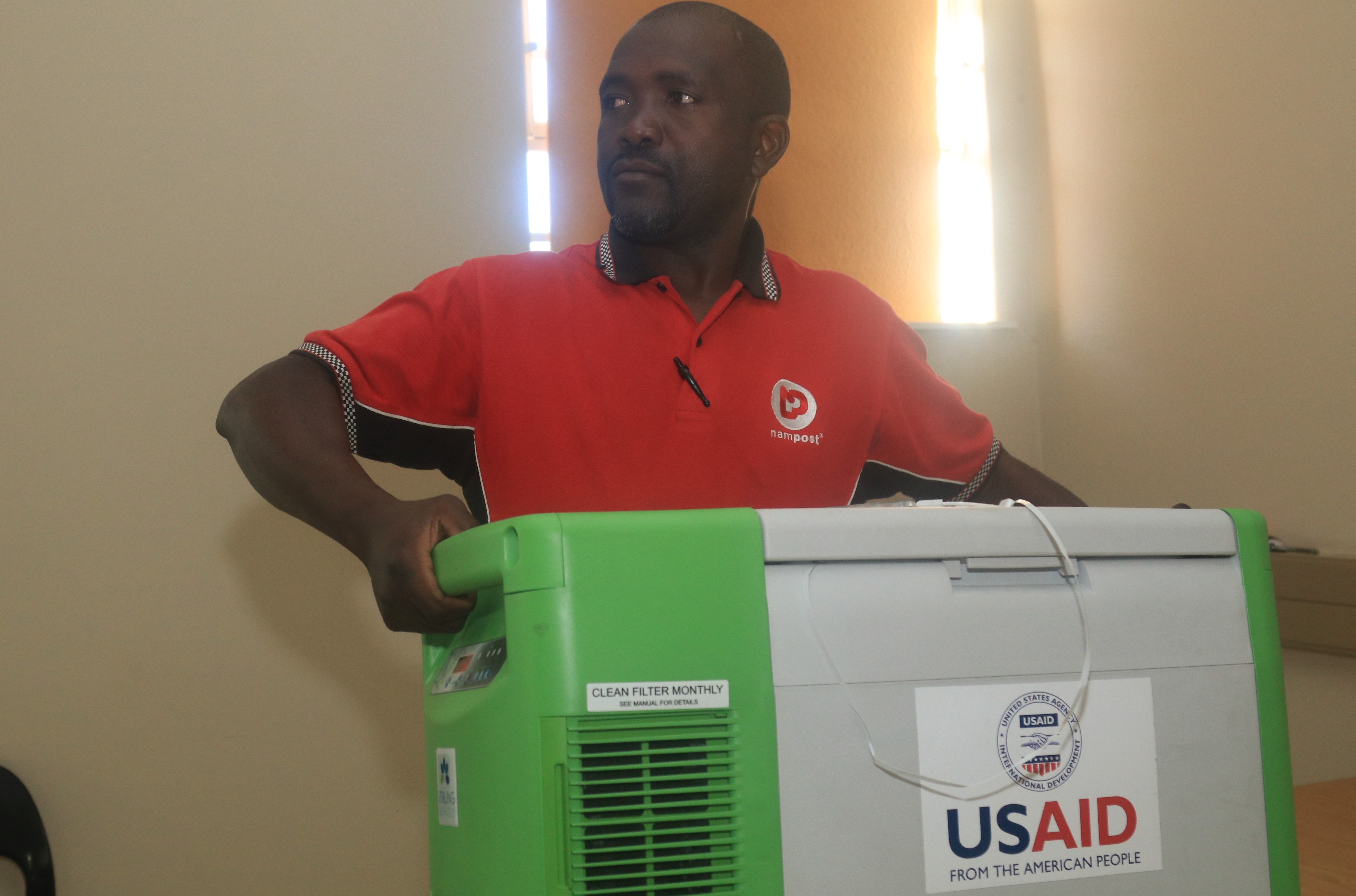 Lead Paragraph/Summary
This story first appeared in, "Driving Last-Mile Solutions to Ensure Access to Public Health Commodities." Because of the important insights and lessons learned that it provides about cold chain and ultra-cold chain for COVID-19 vaccines, we are republishing and resharing separately.
The vaccines developed for the COVID-19 pandemic represent a historic scientific achievement. Getting the vaccines to patients at the last mile, however, presented a substantial challenge in places where the supply chain for health commodities was not equipped to store and transport commodities at cold (or ultra-cold) temperatures required by COVID-19 vaccines.
In Namibia, a large country that is dry, often very hot, and has the world's second-lowest population density, GHSC-PSM came up with a highly specialized approach to last-mile distribution at short notice. Namibia committed to equitable distribution of COVID-19 vaccines, refusing to limit access based on distance or access to the cold chain. The Namibian Ministry of Health and Social Services (MoHSS) also wanted to provide vaccine access to as many young people as possible, and thus had a particular interest in the Pfizer-BioNTech vaccine, the only one approved for use in children 12–17 at the time.
Ryno Badenhorst, country director for GHSC-PSM in Namibia, explained, "This project provided proof of concept for using mobile fridge freezers in Namibia. This is a low-cost alternative compared to the cost of a refrigerated truck, when the cold chain requirement is small, and allows these goods to be co-loaded with other freight. We predict that other courier companies may introduce these mobile units for cold chain transportation."
The MoHSS's supply chain relies on five large trucks that travel around the country, delivering supplies to each location approximately every six weeks. When the U.S. Centers for Disease Control and Prevention (CDC) began supporting the government of Namibia to distribute the Pfizer/BioNTech vaccine, the agency asked GHSC-PSM to suggest solutions to the challenge of transporting vaccines long distances in very hot weather, including across the Kalahari Desert. The Pfizer/BioNTech vaccine must be kept at ultra-low temperatures (between –90°C and –60°C, or –130°F and –76°F), and it was unclear if Namibia could use the vaccines to protect its population against COVID-19 because of cold chain and transportation challenges.
In evaluating the readiness of Namibia to implement vaccine distribution, GHSC-PSM learned that while the MoHSS did not have any ultra-low temperature (ULT) freezers, the Namibian Institute of Pathology (NIP) had recently received 10 ULT freezers, placed around the country, used for lab supplies and samples, and was happy to allow vaccine doses to be stored in them. Also, the U.S. Embassy in the capital city of Windhoek had a small ULT freezer with the capacity to store some vaccines.
While these ULT freezers could be used for storage, the next challenge was distributing the vaccines to the ULT freezers in different parts of the country and then to vaccination sites. The MoHSS's supply chain could not accommodate a product requiring transportation at ultra-low temperatures; the ice packs regularly used for cold-chain transportation were inadequate. GHSC-PSM developed and distributed a request for proposals (a "tender"). Only two bidders emerged out of more than 10 companies that were expected to bid, due to the complexity of the documentation required. The winning bidder was NamPost, a national parastatal organization that provides postal, banking, bill-paying, and other services, including overnight courier services. NamPost used small vehicles and could transport vaccines from the NIP ultra-low freezers to MoHSS vaccination locations.
To equip these smaller vehicles with a mobile ultra-low cold chain, GHSC-PSM purchased four special mobile freezers that are designed for scientific and medical storage and transportation and can be set at different temperatures, including ultra-cold.
After the freezers were installed and hooked up to the vehicles' power system, a test run in extreme temperatures revealed quickly that the power generated by the car's battery was insufficient to power the freezers for a full day. This new hurdle was addressed by installing deep cycle batteries into the vehicles specifically to support the ULT freezers. Another innovation was connecting the mobile freezers to a power source the night before transportation to bring the temperature down to –80°C before being loaded onto the trucks. This practice reduced the initial demand on the batteries, allowing the freezers to retain their low temperatures in Namibia's harsh climate during transportation while minimizing strain on the vehicles' power systems.
Once the testing and set–up were complete, the specially equipped NamPost vehicles delivered the vaccines to the NIP labs with ULT freezers at the regional level. When the MoHSS was ready to vaccinate, the vaccine was taken from the ULT freezers to the clinical sites, where it could be stored in a regular clinic refrigerator for up to a month until the vaccinators were ready to inject them into the arms of people at the last mile.
While this system was set up specifically to distribute COVID-19 vaccines, it had several other applications. The NamPost vehicles transported other goods used to support vaccination, including syringes, needles, and diluent. Because the vehicles travel more frequently than the large MoHSS trucks, sites had the flexibility to request additional supplies outside of the MoHSS's normal schedule of deliveries, reducing stockouts and adding new nimbleness to the supply chain. The system can easily be adapted for other products requiring a cold chain, including rabies vaccine and oxytocin used to prevent postpartum hemorrhage.
GHSC-PSM is testing further innovations, including a Bluetooth-enabled padlock that will keep pharmaceutical supplies (often a target for product leakage) secure en route. These padlocks can be opened only through a code sent through a smartphone, so they could potentially be closed by a licensed pharmacist at the central level and opened by another pharmacist at the destination. The smart padlocks also record who opened and closed them, providing another layer of visibility and security to the supply chain.
GHSC-PSM has adjusted the NamPost contract to account for complex issues of ownership of the ultra-low fridge-freezers and insurance to be provided by NamPost. The contract stipulates that when NamPost is no longer using the freezers to distribute COVID-19 vaccines, they will be donated to the NIP, where they can be used to transport specialized drugs requiring an ultra-cold cold chain, such as chemotherapy agents. USAID has extended support for COVID-19 vaccine distribution through February 2023 and has asked GHSC-PSM to support a final drive to stock vaccines at health facilities and to return access stock to the central medical store.
The project has also ordered 26 standard mobile refrigerators that will be donated early in 2023. These refrigerators can handle temperatures from -20 degrees Celsius and would be used mainly for cold chain commodities from +2 to +8 Celsius. Said Ryno Badenhorst, country director for GHSC-PSM in Namibia, "The procurement of cold chain equipment is very difficult. Pure medical fridges are very expensive and can be found abandoned with scrap medical equipment piles outside health facilities since it is basically impossible to repair these very specialized machines. We avoided this risk by procuring mobile fridges used in the tourism and camping environment in Namibia. These brands are tried and tested in our local conditions, and there are local service centers to repair and maintain them." The use of these refrigerators will reduce the risks associated with using ice packs in cold boxes during long-distance last-mile deliveries.
While the work to make COVID-19 vaccines available in the Namibian context required a rapid response and innovation, it may have a long-term impact on the availability of products requiring cold chain transportation at the last mile.
Badenhorst explained, "This project provided proof of concept for using mobile fridge freezers in Namibia. This is a low-cost alternative compared to the cost of a refrigerated truck, when the cold chain requirement is small, and allows these goods to be co-loaded with other freight. We predict that other courier companies may introduce these mobile units for cold-chain transportation." He further explained that, because of the high cost of ULT freezers and the compact size of vaccines, a partnership such as that between the NIP and the Namibian MoHSS is ideal. "The COVID-19 crisis brought everyone together, and all the Namibian partners pulled in the same direction to solve the vaccine distribution problem."
Featured Resource
Heading
Featured Resource
Featured Image
Image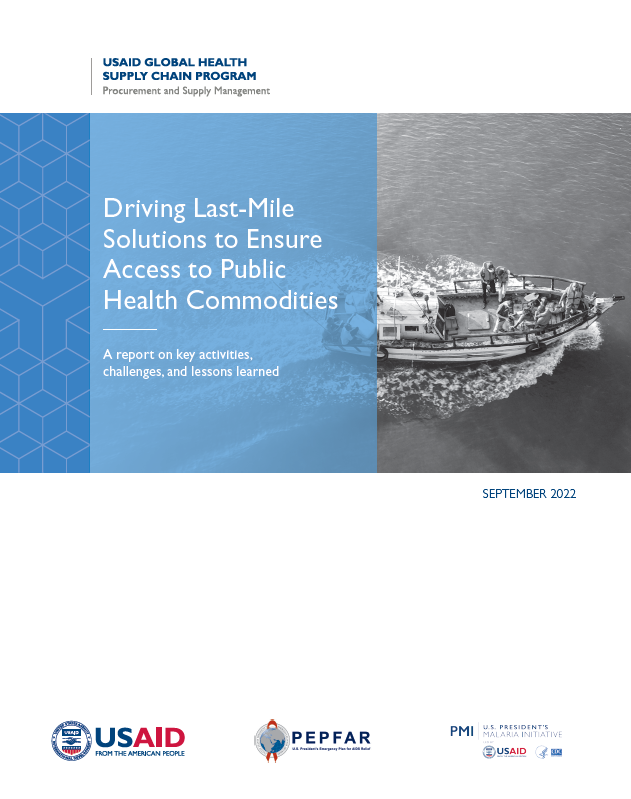 Related Supply Chain Topics