Featured Media
Image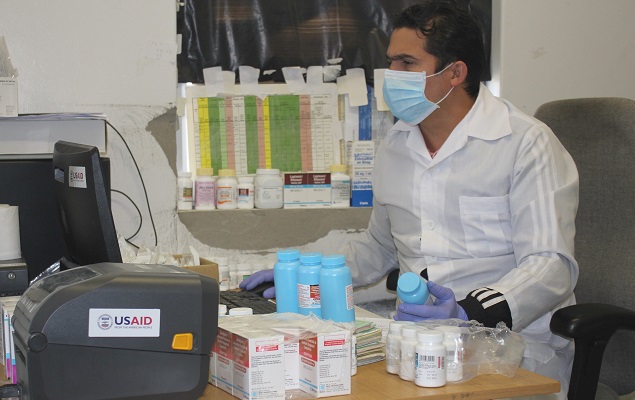 Lead Paragraph/Summary
Namibia's Ministry of Health and Social Services (MoHSS) began implementing social distancing and quarantine requirements on March 27, 2020 to combat the COVID-19 epidemic.
To ensure availability of antiretroviral medicines (ARVs) for people living with HIV/AIDS during the quarantine, the USAID Global Health Supply Chain Program-Procurement and Supply Management (GHSC-PSM) project and MoHSS rushed four months of medicine stock to health facilities. This amount was based on the number of patients per facility for first-line ARVs. The project then reviewed stock levels weekly to ensure availability at each site.
GHSC-PSM made use of the Pharmaceutical Information Dashboard, which the project regularly supports and maintains, to track and monitor stock levels at health facilities, identify supply risks and mobilize any needed stock redistribution from other regions with less need. One of the key features of this online tool is the ARV Treatment (ART) Dashboard, which provides summaries of the number of patients accessing HIV treatment and ARV stock levels at every facility.
To minimize visits to healthcare facilities, MoHSS called for stable patients on ART to continue receiving three or six months of ARVs as part of multi-month dispensing.
These precautionary actions were perhaps most important in the northern regions of Ohangwena, Omusati, Oshana and Oshikoto, which together have the highest prevalence of HIV/AIDS in the country – 60 percent of the total population. The MoHSS and GHSC-PSM were also concerned about the potential increase in population flows into the northern regions as patients returned to villages because of the lockdown, potentially increasing pressure on ARV supplies. Because of this expected population jump, GHSC-PSM and the MoHSS worked with the regional medical depot to provide sufficient extra stock to serve as a buffer in case of increased demand.
Early coordinated response by GHSC-PSM and the government resulted in a sufficient supply of first-line ARVs to meet patient demand throughout the lockdown. Through continuous communication and collaboration, MoHSS and GHSC-PSM ensured an agile and effective response to a rapidly changing situation.
"These measures will ensure continuity in treatment for most of the PLHIV during these uncertain times of the COVID-19 pandemic," explained Farida Mushi, GHSC-PSM Technical Specialist based in Northern Namibia. "Multi-month dispensing to stable HIV patients with suppressed viral load helps to minimize hospital visits hence reducing the chances of exposure to COVID-19 for HIV patients."
More than 150,000 people living with HIV receive ART from the MoHSS in Namibia. The government continues to invest significant resources in the HIV response, including funding more than 85 percent of ARVs, 95 percent of HIV rapid test kits and 100 percent of viral load reagents and related commodities.
The national ART program has attained high patient coverage, and Namibia has repositioned itself to sustain the quality of HIV treatment services and outcomes, including adherence to ART to avoid drug resistance. GHSC-PSM and other partners continue to support MoHSS to improve access to treatment and care throughout the country.