Featured Media
Image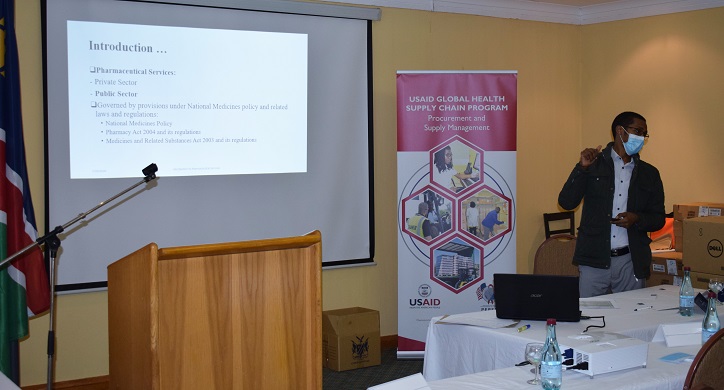 Topics:
Related Supply Chain Topics
Related Global Health Areas
Lead Paragraph/Summary
Between July 20 and August 7, the USAID Global Health Supply Chain Program-Procurement and Supply Management (GHSC-PSM) project in collaboration with the Division of Pharmaceutical Services (Div:PhSs) in the Ministry of Health and Social Services (MoHSS) in Namibia held a training on managing pharmaceutical antiretroviral therapy (ART). The course provided the 62 newly minted pharmacists and pharmacy assistants from parts of the northern regions of Namibia with the opportunity to build their capacity in ART pharmaceutical management at their respective district health facilities.
Approximately 220,000 people in Namibia live with HIV with more than 150,000 receiving ART from MoHSS facilities countrywide. The national ART program has attained high ART patient coverage, but sustaining the quality of HIV treatment services and outcomes, including adherence to ART treatment to avoid HIV drug resistance remains a challenge.
Supervisory support feedback reports, which are supported by the project in collaboration with the MoHSS, identified inventory control and storage practices for HIV/AIDS and other medicines as additional challenges in public health facilities in Namibia. As a result of poor inventory control, health facilities experience stock outs and over stocking of ARVs and related commodities, further impacting the availability of ARVs to patients.
A high staff turnover at health facilities is also contributing to underutilization of patient and data management tools used at health facilities.
In an effort to improve access to quality pharmaceutical services at ART sites, the MoHSS recently recruited newly trained pharmacists and pharmacist assistants to manage pharmaceutical services at district hospitals and primary healthcare facilities throughout the country. To better equip the new pharmacy staff, they needed to be oriented on their role in managing pharmaceutical services at district and ART sites. The training also covered relevant pharmacy electronic tools, standard operating procedures and treatment guidelines to ensure that patients receive quality care.
The training focused on:
Pharmacy staff's role in managing pharmaceutical services at regional and district levels
Inventory management using the Facility Electronic Stock Card (FESC), Electronic dispensing Tool (EDT) and Electronic Data Synchronization (EDS)
Patient management tools at ART and decentralization sites
Reporting and data analysis at regional and district levels
Generating reports from patient and stock management tools and uploading them to the dashboard for pharmaceutical information
"The orientation was very informative and useful, especially the practical sessions," said Jacobina Leonard, a pharmacy assistant from Nyangana Hospital in Kavango East region of Namibia. "I got to learn and understand how to use EDT and FESC as they were explained in detail and we got a chance for a practical lesson, as I a coming from the private sector were we did not use these tools before."
Jacobina added, "Pharmacy assistants who are already in the system and have knowledge of the tools also shared some best practices with us. With my knowledge and what I gained from the orientation I am ready to provide quality service in my district."
What's more, to better retain patients in care, improve adherence to antiretroviral medicines and obtain reliable data for forecasting and quantification of ARV medicines, robust information and inventory management systems need to be supported to efficiently collect inventory and patient data that can be used to determine quantities of pharmaceuticals needed for the ART population.
Pharmacists deployed at ART health facilities in high HIV prevalence regions have now been trained on using the FESC, EDT and EDT-mobile for patient and inventory management. Other health facility staff will also be trained on accurate and timely report generation and how to upload the reports onto the dashboard to ensure that the ART program has accurate data for decision making around forecasting and procurement of pharmaceuticals.